I love that song. That's what I was listening to when I got home from work tonight. I only have "The Escorts" version. This version is a little better.

I skipped my Korean class today. I only studied about 5 minutes all week. There just wasn't enough time. Hopefully my teacher will not be too upset. Unfortunately, the other two guys in class skipped too, so she won't be making any money from us this week.

I needed a break. She goes so fast that it's impossible to keep up with her. It's good for me that the others skipped the class, because now I won't be even further behind than I already am. Right now, I'm about a week behind. I'll try to get some studying done this week if I have time.

Last night I was supposed to go to a Thanksgiving dinner with some people from work. My girlfriend and I were both supposed to go. At first I thought it was just going to be work people, but I later found out there was around 50 people coming. I would have been more likely to have gone if it would have been only work people. I didn't realize half the foreigners in Haeundae were invited. My girl didn't feel like going either. That's good for me because I just blamed it on her. I told the guy who organized the party that I had no choice. If she doesn't go I can't go.

We decided to just stay in. We had pizza for dinner. It was pretty good. Pizza Etang. It's the same shit we order for the kids at school. It's not my favorite, but it's hard to get decent pizza in Korea. The sauce is too sweet at half the places. It just doesn't taste like pizza sauce. At the remaining half it's difficult to get a pizza that just has sauce, cheese, and pepperoni. They all want to serve it "Korean style". Korean pizza has corn on it.

Pizza Etang's sauce is the best I've had in Korea, but they never cook it enough. They also put the pepperoni under the cheese. Any jackass who's spent five minutes in a kitchen knows that if you under cook the pizza, and the pepperoni is under the cheese (instead of on top of it) the pepperoni is going to be fucking raw. So I ate my under-cooked pizza, with raw pepperoni, with a smile on my face. I pissed off my girlfriend Saturday morning when I woke up at 2:00am to watch the Bruins game, and I wanted to keep things civil last night. Pizza Etang is her favorite and criticizing it elicits the same response I would get if I called her mother a bitch. Pizza Etang is famous, it's famous so it has to be the best. Korean logic always amazes me. So I didn't complain in order to keep the peace.

The thing that really pisses me off about Korean pizza is the corn though. Who the fuck puts corn on a pizza? I really don't understand this countries fascination with corn. It's not like corn is really that healthy. Of all the veggies that you could put on a pizza, corn is probably the least healthy. They put corn on everything. I love corn with a little butter as a side veggie, but I don't want corn on my fucking pizza.

They also put corn in all their salads. Who puts corn in a salad? I like my corn hot, with melted butter, some salt, on or off the cob. I don't like it cold, uncooked, and mixed in with my blue cheese dressing. I used to love eating salads, now I won't eat a salad unless I make it myself. I don't need corn on my salad. I'm sorry, but corn and salad dressing are not a delicious combination.

The other food anomaly in Korea is Spam. I will never understand why they love Spam so much.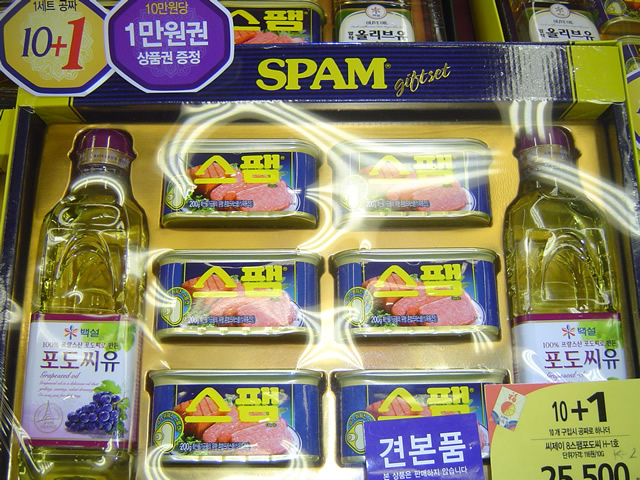 Why are they so amazed by Spam? In the US I remember Spam as being something that people who couldn't afford to buy real ham would eat. It always brings back memories of the "Hamburger Helper" scene from

Vacation

.



Koreans love their Spam. It's like white-trash paradise.

I like this article that equates Koreans love for Spam with the French's love for Jerry Lewis. I predict a future thesis for an anthropology major in there somewhere.

What meat's a treat? In Korea it's Spam.

Here's a generic article from the Korea Times on the subject:

More Spam.

I'll just never understand. It certainly seems to draw a parallel to other cultural selections of Koreans. Instead of copying American Rock 'n' Roll, Jazz, Blues, Punk, or any other unmentioned, interesting, type of music; they choose to copy pop.

Anyways, I think that's it for today. Time to eat some food...without corn or Spam.